Deschutes River Guided
Fly Fishing Day Trips

Day trips are available on the Blue Ribbon Lower Deschutes River for wild "Redside" rainbow trout and summer run steelhead to anglers coming from Bend, Portland, Maupin, and beyound! All our Deschutes River guide trips meet at the Deschutes River Fly Shop and Camp across from the river on Hwy 26 just a mile south of the Warm Springs boat ramp and put in for all the day trips. Many anglers and clients lay up at the camp prior to their guide trips or rent our cabin on the property to base out of.
A Deschutes River day float is a great option for those looking to experience the Deschutes and don't have the time or resources to take on an overnight adventure. The day float is from Warm Springs to Trout Creek. This is a 10 mile float into a very scenic boat in only section of the Deschutes. There is a ton of great water on this stretch for both trout and steelhead, and the scenery is rugged and beautiful.
For anglers wanting the full Deschutes River Experience the Overnight Camp Trips is the way to go!
The Season Starts in May with the Salmonfly Hatch
The Salmonfly Hatch is world reknown and anglers come from long and far to experience what is the best dry fly fishing of the season! The fun does not end there though as Caddis hatch is next providing good fishing for trout through out the rest of the summer!
Steelhead trips are ran on this section of river in September and October when these turbo charged, sea going rainbow trout return to natal spawning grounds.
Read more about Steelhead trips on the Deschutes Here!
Day trips include 8 hours of fishing, guide services, water and sodas, and a shore lunch. Extras include fishing licenses, tribal permits, boaters passes, flies, etc..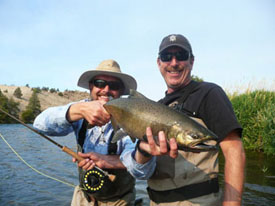 Half Day Floats - aka "The Cocktail Float"
Half day drift boat floats are offered in the afternoons during the trout season (May-September) from Warm Springs to Mecca.
Though the float is only about a mile in length there is some fabulous water in this section of the float. Late afternoon and evening fishing can be spectacular, and often you will have it all to your self as most day floaters are far down river by then.
Half day floats include 4 hours of guided fishing and non alcoholic beverages. It is BYOB on the Cocktail Float!

The Deschutes "Mega" Day Trip


For an extra $125 dollars you can add four more hours of fishing to your day trip making for a 12 hour day. The "Mega" option is most popular with steelheaders who want to do a dawn to dusk tour taking advantage of both the morning and evening low light sessions, or for the die hard trout angler who wants to stay on the river from morning until dark experiencing the magic hour of fishing during the last light of the day!