Deschutes River Steelhead Fly Fishing
The lower Deschutes River in Oregon has one of the best runs of summer run steelhead in the lower 48. Ideal water temps, regulated flows and the presence of hatchery and wild steelhead makes the Deschutes River one of the most consistent steelhead fisheries around.
The first steelhead start entering the mouth of the Deschutes in the beginning of July. Fishable numbers are present in the lower sections (Below Macks Canyon) of the river by late July and early August. By September fish are spread throughout the entire 100 miles of river, with the run peaking in late September - early October.

Deschutes Steelhead average between 24"-28" in length, and weigh around 6 to 8 pounds. Bigger steelhead up 12+ pounds are caught each season, most of these are "B Run" fish that are bound for Idaho and that have strayed into the Deschutes!

Swinging Flies on the Deschutes With Spey Rods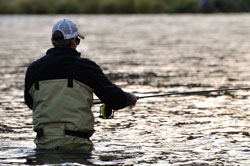 The many long, broad riffles and runs that are spread through out the 100 miles of the Lower Deschutes lend themselves to fly fishing for steelhead, especially "swinging" flies with a two handed fly rod or "Spey" rod. Two handed Spey rods are very popular, and for good reason. Spey rods are the tool of choice for efficiently and effortlessly searching out fish in the endless runs of the Deschutes. And they are a blast to cast and fish with to boot! If you have not used a Spey rod before, don't worry we have lots of experience getting beginning Spey anglers casting and fishing in no time!
When water temperatures are above 50 degrees, dry lines and classic hair wing patterns and skaters routinely take fish. When temperatures dip below that mark, or when the sun is on the water, a sink tip and larger leech type patterns is the go to method for enticing hesitant fish.

Typical Deschutes Spey rod set ups are 12'6"-13'6", 6-7# rods lined with a running line and a Scandinavian and Skagit shooting heads.
Other Methods
While swinging flies is the preferred method for catching Deschutes Steelhead for many anglers, other methods of fly fishing can be productive as well, most notably nymphing.
While nymphing is not as productive on the lower part of the river as the lower gradient, and the broadness of the runs are better fished with Spey rods. The upper river has many buckets, seams, and riffles that can be nymphed with a lot of success. Anglers arm themselves with 7-8# single hand rods, and typical nymph set ups to catch steelhead nymphing.
Reasons for Hiring a Steelhead Guide
The Deschutes can be an overwhelming river to try and figure out, especially when time is limited. A knowledgable guide can be invaluable when trying to learn the techniques and type of water to fish when in pursuit of the "Fish of Thousand Casts"!
By hiring a guide your are maximizing your chances of catching fish as your valuable time will be spent fishing "A" water, while using tips and techniques proven to catch steelhead on the Deschutes.