Oregon Winter Steelhead Trips

River Borne Outfitters offers winter steelhead trips through out Oregon from December into April. We focus mainly on mid Oregon Coast streams and Southern Oregon rivers including; the Siletz, Nestucca and Alsea rivers on the coast and the main stem Umpqua and Upper Rogue Rivers in Southern Oregon.
Oregon Coast Winter Steelhead Trips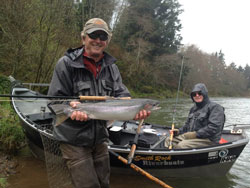 These are small to medium sized rivers, most are not longer than fifty miles. Almost all the rivers on the Oregon coast possess a steelhead run of some sort.  The first push of fish on the coast are the Alsea hatchery stock. This run peaks in December and January. The second push of fish are the brood stock hatchery fish and the wild fish. The bulk of this run will show up in February and March. Look for water and weather conditions to become more stable later in the season. February and March are the most consistent months to chase winter fish, especially with fly gear. Though good days can be had any time the water conditions are good.

We fly fish these rivers when conditions are right, and swing flies when the opportunity exists. We fish "Montana" style out of drift boats with nymph set-ups and we will fish bobber and jigs, side drift and fish plugs when the conditions are tough or clients prefer.

You have to be flexible when booking a trip for winter steelhead as the conditions can change quite rapidly. But when you do hit it right there is no better place to catch that steelhead of lifetime!


Upper Rogue River Steelhead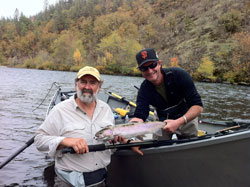 River Borne Outfitters offers steelhead fly fishing trips on the Upper Rogue River in the fall and winter! This section of the Rogue offers two months of fly fishing only from September and October, and is a beautiful, productive, often uncrowded steelhead fishery.
The summer run is overlapped by the winter run and the fishing stays good into March.

We fish "Montana Style" out of drift boats and also get out and swing flies with single and two handed rods. The diversity of this river is great with runs of summer and winter steelhead, chinook and coho. Accidental hook ups of salmon up to 25+ pounds while fishing for steelhead are not uncommon!
There is also a very good population of resident trout, including beautiful wild cutthroat trout ranging from 10-16". Mid day hatches make for a good diversion for an hour or two during fall and winter steelhead trips. The Upper Rogue experiences a Salmon fly hatch in the spring that can provide great dry fly fishing as well.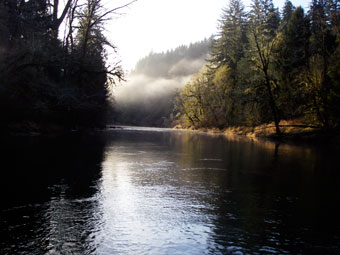 Click Here
To read about what's included in your guide trip and about
River Borne Outfitter's booking policy!