Bend, Oregon Guided Fly Fishing Trips on the Crooked River!

River Borne Outfitters offers day and half day, guided fly fishing trips on the Crooked River, a scenic high desert river 45 minutes east of Bend, Oregon. The beauty and productivity of the Crooked River make it a popular destination for many Central Oregon fly fishers and visitors alike.

The Crooked River is a tail water fishery that has a large population of wild "Redside" rainbow trout and whitefish. As a result of being dam controlled the section of the Crooked River below Bowman Dam experiences stable, albeit cold water temperatures and prolific bug hatches making for ideal fish habitat. The best fishing and where we focus our efforts is the 10 miles of river below Bowman Dam, and Prineville Reservoir.
The Crooked River is the best river to learn to fly fish
on in Central Oregon!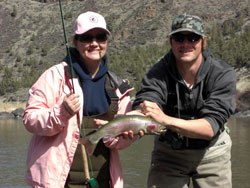 All levels of anglers will enjoy the Crooked River. Beginning anglers often experience good success, It is the most ideal river in Central Oregon to try your hand at fly fishing for the first time.

The Crooked River is a great option for those who have just an morning or afternoon to fish. It is close enough to Bend or Sunriver to wet a line and be back in time for that tee time or dinner reservation!

The half day walk in trips on the Crooked River are our most affordable trip.
All equipment is provided in the trip cost, including waders, boots, fly rod rentals, and flies and leaders. The only thing you need to purchase for your trip is a fishing license.

The Crooked River is is a good option for corporate, family, and other group gatherings!
We have a lot of experience in teaching and guiding individuals and groups including children.
A small client to guide ratio (no more than 4:1) is provided so you will have the hands on instruction you need to be successful!

Consider having us provide a streamside barbecue lunch for your group at one of the many beautiful picnic sites along the river to top off your trip! (Inquire when you book for more details and to get a quote)