Deschutes River Fully Outfitted
Fly Fishing Camp Trips
This is a Central Oregon, must do, bucket list experience. A three to four day camp, float, and fish trip down the Lower Deschutes River in Oregon!
Experience world class fishing and amazing scenery, white water adventure, great food & luxurious camps! These are fully outfitted and catered trips. All camp equipment, food, and beverages is provided.
A gear boat and camp host are used to secure, set up and break down camps.
No work involved for the clients!
Accommodations include walk in tents, and oversized cots. Dining tents are used to make sure you have a place away from the elements to enjoy your hors d'oeuvrs, multi course meals, and after dinner cocktails!
Multi day camp trips for are available on the Deschutes from
May through October.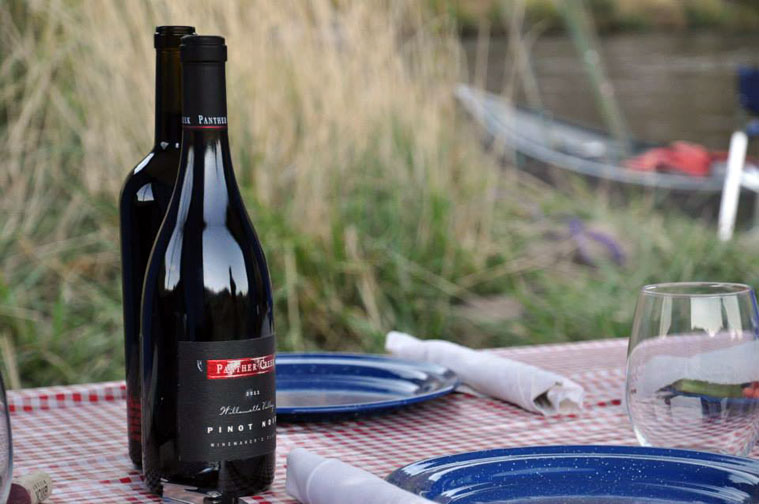 During the trout season (May-August) the most popular multi-day float on the Deschutes is from Trout Creek to Harpham Flat. This float is thirty miles and is best done in 3 to 4 days.
The renowned Deschutes Salmon fly hatch begins in May and is a popular time to float this stretch. Book early to secure the best dates!
Trout fishing stays good through out the summer, with May through July being the best.

Starting in August overnight guided fly fishing trips for Steelhead are available.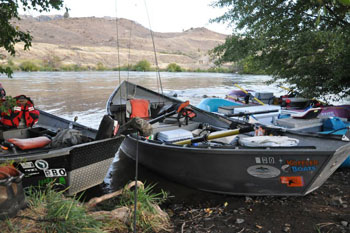 Overnight camp trips are offered in August and September from Macks Canyon to the mouth. Down low in the river, we target early, aggressive steelhead with swung flies. Spey rods are used to cover these large runs. This stretch can be a tough, crowded, and windy section of the river. But when its on, on the lower, it is the best steelheading of the season! This is about a 24+ mile float done in 2-3 days.
From mid September into November, overnight fly fishing trips on the upper stretches of the Deschutes is your best bet. This is a very consistent time of year to fish and a bit slower, more intimate steelhead experience. This section is often less crowed and there are usually plenty of steelhead around as they consolidate in the upper sections of the river.
October is the prime month to book a multi day float for steelhead on the Deschutes River, but late September and early November can be good as well.

For More Information on Overnight Trips including Pack Lists Click Here!